Blind Lemon Blues
by Alan Govenar and Akin Babatunde
About
Details: Musical Theatre Production, produced by Documentary Arts, Inc.,
Conceived and Written by Alan Govenar and Akin Babatunde.
Direction, musical staging, and choreography by Akin Babatunde.
Musical arrangements: Cavin Yarbrough, Alisa Peoples Yarbrough and Akin Babatunde.
Starring: Akin Babatunde, Cavin Yarbrough, Alisa Peoples Yarbrough, Inga Ballard (Hairspray), Carmen Ruby Floyd (Avenue Q), Timothy Parham (2007 Blind Lemon Blues) and Skip Krevens (Always… Patsy Cline) on guitar
Blind Lemon Blues pays homage to the influence of Blind Lemon Jefferson, who emerged in the 1920s as the biggest selling country blues singer in America. Set in New York City in 1948 at the last recording session of the legendary Huddie Ledbetter, better known as Leadbelly, Blind Lemon Blues combines elements of traditional blues, gospel, rhythm and blues, soul, doo-wop, and rap to evoke the enduring legacy of Blind Lemon and his contemporaries, Blind Willie Johnson, Lillian Glinn, Hattie Hudson, Bobbie Cadillac, Lillian Miller and Leadbelly himself.
In Blind Lemon Blues, Govenar and Babatunde explore the relations between blues music and the spectrum of the human circumstance -- from joy to pain, despair to hope. The current incarnation of Blind Lemon Blues is an evolution of the original play Blind Lemon: Prince of Country Blues that debuted in 1998.
Blind Lemon Blues was presented in New York City as part of the Works & Process series at the Guggenheim Museum (February 11 & 12, 2007), followed by its off-Broadway premiere at the York Theatre (February 15-25, 2007). It returned to New York City for a second off-Broadway run (September 8 - October 4, 2008). Dramatic Publishing now licenses the rights to both the full-length play and a 50-minute version.
Reviews
CBS News | 9/15/09
"An inspired, highly original tribute to blues singer and guitarist "Blind" Lemon Jefferson"
The New York Times | 2/20/07
"A lively and intelligent new musical! An Inspiration!"
Variety | 2/16/07
by Marilyn Stasio
"Blues lovers be grateful, be very, very grateful! One sensational guitarist (Sam Swank), two powerhouse bluesmen (Akin Babatunde and Cavin Yarbrough), four savvy backup singers (Lillias White, Alisa Peoples Yarbrough, Benita Arterberry, Timothy Parham), and some 60 songs by legendary blues artist Blind Lemon Jefferson are enough to make any blues lover go weak at the knees. Blind Lemon Jefferson's voice emerges with full force!"
The Village Voice
"You may have to shoot someone to get a ticket, but that wouldn't surprise Blind Lemon Jefferson, the great country-blues singer whose songs make clear that he knew all about what passion can drive people to do!"
Wolf Entertainment Guide
by William Wolf
"Music is the order of the day! The audience is treated to an avalanche of numbers that in one way or another reflect the African American experience. As well as being entertaining, the show amounts to a quick musical education course. A bountiful performance! "
TheaterScene.net | 2/18/07
by Victor Gluck
"A new foot tapping, soul stirring musical! Traditional blues, gospel R&B, soul, doo-wop and rap bring to life the legacy and career of Blind Lemon Jefferson. . A magnificent musical triple-threat brings back to life a nearly forgotten era of America's musical culture!"
Musicals101 | 2/2007
by John Kenrick
"The blues come in all sorts of hues, and the York Theatre's latest new musical Blind Lemon Blues offers a joyous, soulful rainbow of them! From the mournful to the raunchy, it's all here and flows as smoothly as vintage scotch. One hell of a good time! The talents on hand are rich and delicious. Praise is clearly due to all concerned. A heartfelt gem! Such a fine entertainment deserves a longer run in New York!"
Talkin Broadway
"An evening packed with the blues can leave you feeling every other color! A beautifully blended song list. Creators Alan Govenar and Akin Babatunde have ensured that, by show's end, you feel a spiritual kinship with both Jefferson and the legions of artists his soulful stylings inspired!"
Broadwayworld
"A night of sweet singing blues.A very talented ensemble! Stirring!"
American Theaterweb
"A terrific blend of blues and rhythm and blues, delivered by a top-notch six-person ensemble. Enough toe-tapping music to fill two or three shows! Given the strength of the material and the show's formidable musical assets, there's the potential for Blind Lemon Blues to become another hit along the lines of Ain't Misbehavin'!"
Awards
2001 LEON RABIN AWARD for OUTSTANDING NEW PLAY OR MUSICAL
License through Dramatic Publishing

$9.50 (50-minute version)
$35.00 (110-minute manuscript)
Official Site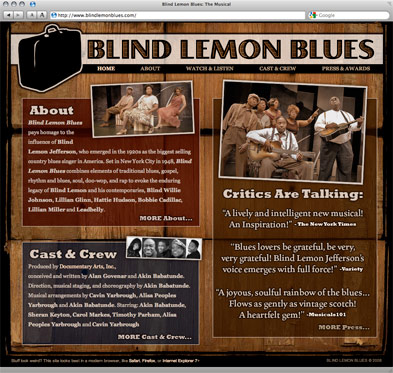 Visit the official Blind Lemon Blues website for more information.
Related